Our social cause and activity
People who have experienced trauma often feel a complete loss of control in all areas of their lives. This is why practitioners in our groups have full control of what happens to them during the AdniJóga yoga classes. During this time they learn breathing and movement techniques that can always help them return to the present moment. These physical and mental health tools are delivered to 10 groups a week through yoga, meditation and relaxation, for both adults and children.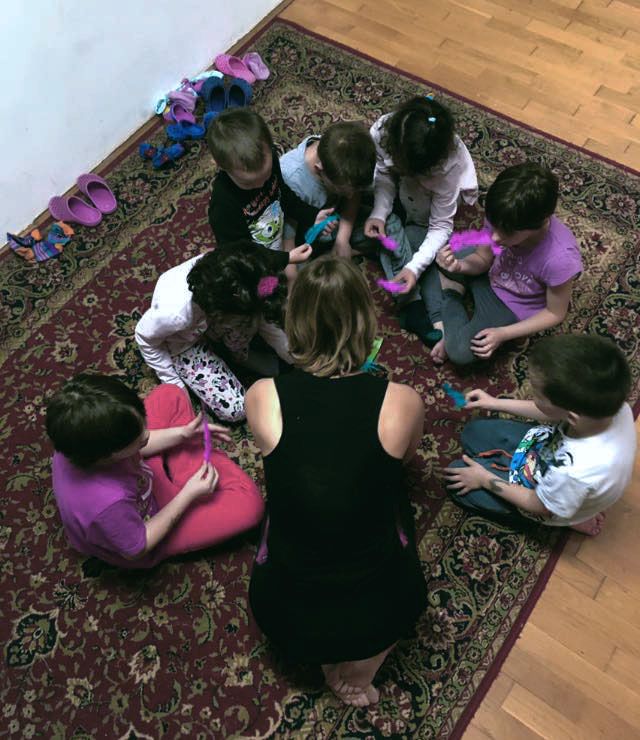 Collaborations are key to setting up our socially conscious yoga classes and keeping them alive. We work with nonprofit organizations to help get our yoga classes to those who really need it. We are grateful to the charities we work with and who do their best to keep our yoga sessions running smoothly week after week.
Artemisszió Foundation and Open Doors
The Artemisszió Foundation and the Open Doors intercultural community space have been a home for the socially conscious AdniJóga classes for more than two years now. Among their integration programs yoga is now an important regular event. The members of the group are adults from all over the world (several with refugee status) who are members of the MiraDoor community program. Members can do yoga with us in the evening and in the morning once a week. Right now there is one class a week in the online space.
Temporary Home For Families
Tessedik Sámuel Foundation
A children's yoga program is implemented in this temporary home, where (often broken) families live who would otherwise be at risk of losing their housing. Children of all ages have the opportunity to move and play. The age group participating in children's yoga in this group ranges from 3 to 11 years. In the cold months we couldn't visit the kids during the pandemic, but in the summer we practice, relax, and play together outdoors regularly.
Menedék - Hungarian Association for Migrants
The Menedék Women's Club consists mainly of Syrian and Afghan refugee women, who practice yoga with us on a weekly basis. Yoga classes are held in the hall of a yoga studio as part of the club, partly in Hungarian and partly in English. The staff of Menedék Association also provides translation and childcare during yoga when needed. Classes now also continue online.
Bólyai Center for Children in State Care
At the Bólyai Center for Children in State Care we initially started practicing yoga with the caregivers. Since then we have also launched two groups with children, where in addition to the session specifically targeted for younger children, we also lead classes for teenagers. Here, two of our children groups run with an instructor and an instructor assistant, and although Covid has stood in the way of practising together, we can't wait to start the classes again.
We lead soothing yoga classes with gentle asanas for young people with disabilities attending the Kockacsoki Autistic Club every two weeks. The group is made up mainly of young people in their early twenties, often socially isolated, who have difficulty in the labor market. The friendly atmosphere is always characterized by honesty, openness and a feeling of security.
KockaCsoki and ArtMan Association
We have been leading classes for the parents of children with disabilities since January 2020. One of these classes takes place every week in Kockacsoki - KockaPont and in partnership with the team there, although parents can come from anywhere. Our other group started together with the ArtMan Association and finds a home in Jurányi Ház on a weekly basis. In this group we mainly practice yoga with the parents of young people with disabilities, while the affected group of ages 14-25 can participate in the Artman Association's integrated arts program. Currently our two sessions per week are held online with the support of the EMMI Parental Assistance Program.
Jelenleg a heti két óra online valósul meg az EMMI Szülősegítő Programjának támogatásával.
We have been leading children's yoga classes in the summer camps of BAGázs for 2 years. Recently we have also been visiting the village of Bag on a monthly basis to do yoga with the children and young people at BAGázs Association.
This group is not affiliated with a particular charity. Women who are forced into a difficult life situation and leave an abusive relationship attend this class. They find us through a Facebook group called Újrakezdés (Restart) or sometimes through NANE Association and can practice meditative women's yoga with gentle movement.
The group started in the fall of 2020 in the Lea Home in the town of Érd, where about 8-9 mothers and their babies do yoga together on a biweekly basis.
We want peace of mind to be accessible as easily and flexibly as possible for people with disadvantaged backgrounds. That's why we've created the Online Balance Platform, which allows our beneficiaries to practice yoga with us from home on a regular basis. We made videos and a supplementary booklet encouraging regular exercise in Hungarian and English, as well as playful mindfulness and skills development content for children. These were created with our colorful team of instructors so that everyone can find the practice they like and try out different types of yoga.
If you work for an NGO (or know an organization) where they would be happy to work with us, write to us, we are always open to new cooperations. Together, we can create meaningful impact!