Socially responsible corporate yoga in Budapest
Did you know that here at AdniJóga, we fund our social yoga classes not only by holding downtown pop-up classes but by having corporate office classes too? Here are some thoughts on what we think about this and what are its benefits:
In large companies, the demand has risen sharply in recent years to counteract seated work, so in many places, corporate massages, fitness rentals, or corporate yoga have been ranked among employee benefits.
In Hungary, as the popularity of yoga grows, and its beneficial effects are proven by an increasing number of studies and sources, office yoga is also becoming more widespread. Many people think that this happens in casual clothes, right next to the desk, and is just a 10-minute activity. Although it does exist in this form, of course, we usually have one hour of yoga, on yoga mats in a room where everyone can comfortably fit. We have the same hatha, vinyasa flow, restorative classes as you would go for a class in a studio.
Why is this a good deal for companies?
We've heard a lot about the many positive effects of corporate yoga that employees can enjoy. Just to name a few:
Stress reduction
It is almost impossible to avoid work-related stress, but it is worth learning to manage it. This is not solved by participating in a single yoga class, but regular yoga is proven to help improve body awareness and reduce stress and anxiety. Imagine more relaxed, conscious, balanced and happy people working at your company… You will even love Mondays!
Team building
The team building effect of regularly held yoga classes, spent in a good mood is unquestionable, which at the end of the day promotes commitment and enhances colorful workdays.
Work-life balance
Corporate yoga is usually held at the office of the company, in a larger meeting room or community space. Therefore, employees, colleges don't have to spend time to go to the classes held before or after working hours, which is efficient, and a huge benefit in the rush of everyday life.
Commitment
All in all, can corporate yoga help the engagement of our employees? In the midst of high fluctuations and labor shortages, this seems to be a compelling reason. In this blog post, we do not aim for HR counseling and there is no evidence that people prefer working for a company specifically for the office yoga classes (since employee happiness is a complex thing). However, it is absolutely certain that community building is indispensable in any corporate culture, and a good alternative to this is a regular yoga class within the company, which can be financially acceptable not only by multinational companies but also by smaller ones. Of course, the growing popularity of yoga in Hungary also contributes to the spread of this "habit", and we can say that corporate yoga is becoming more and more popular, and for larger companies, there is almost a requirement from employees.
That's why you may want to start a corporate retreat, team building with yoga, also often on company Health or Family themed days, it is a great way to energize the team.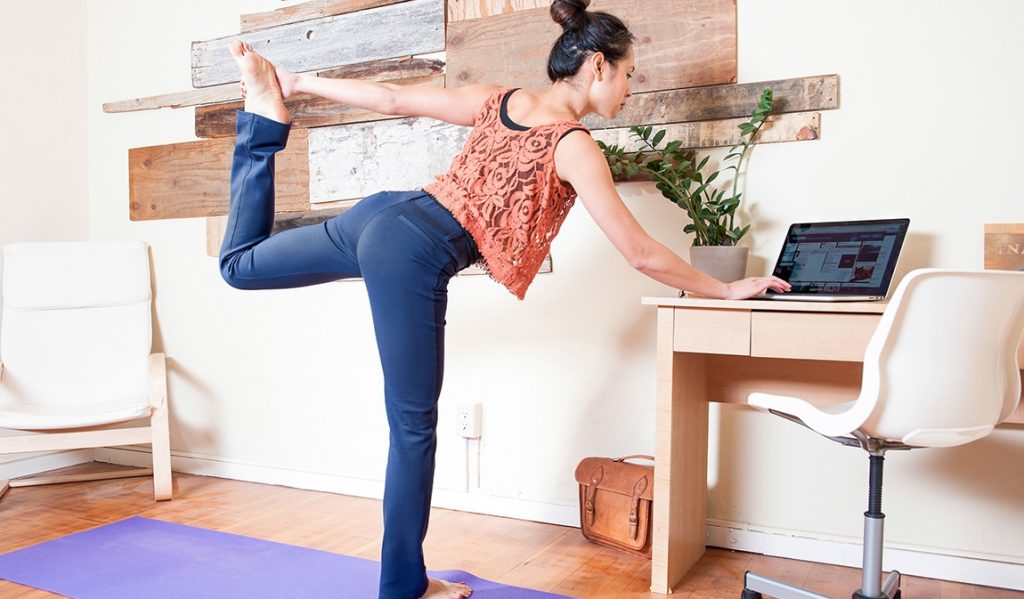 What kind of yoga class do we have for companies?
We often encounter this question because the attitudes and practices of workers to yoga may vary from one workplace to another. There may be those who have been practicing yoga for years and those whose corporate yoga will be their first lesson. Our instructors always asses what the composition of the group is and adjust the exercises to that. Most of the time, we present different levels of difficulty from which everyone can find a practice that still can be accomplished, but at the same time is challenging. In addition to these, we place more emphasis on corporate slowdowns at the end of the day, stress relief, relaxation, or even morning energizing. The direction we are proposing is usually the hatha or spine yoga, which is likely can be done by all the staff and all can enjoy its beneficial effects.
Why AdniJóga?
Companies that have the need to be socially aware alongside healthy employees and want to give back to the community can find an appropriate alternative with us. The company can support a social group or a charitable organization of its choice through us, and the members of the group can experience physical, psychological benefits that practicing yoga can give as well.
The following illustration shows the social enterprise model of AdniJóga, but feel free to contact us if you have any questions.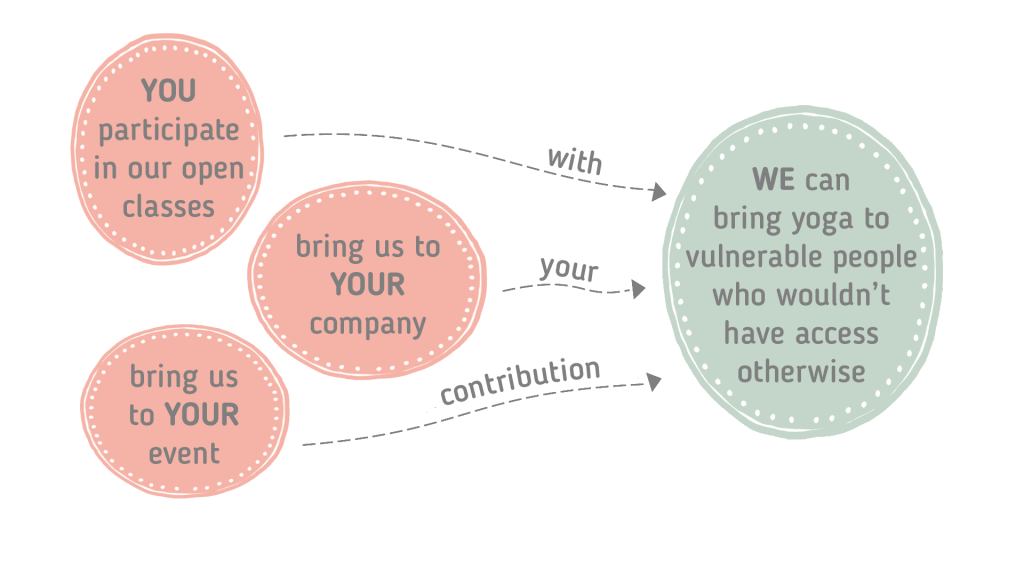 How do we deliver support?
Literally with yoga. Our mission is to bring the elements of yoga that encourage harmony to social groups who are in difficult situations so that they can experience peace, relaxation and the joy of movement. Yoga in the corporate environment also contributes to this goal.
Because you can do yoga and good at the same time:)